I had no idea who Amy Klobuchar was until around mid-2018. And to be honest, I still don't know much about her except that she hails from the frigid midwest and she likes to give speeches in snowstorms.
It's clear what Klobuchar is up against as one of the newest Democratic candidates for president. No one knows who she is, she may have been rude to her staffers, and she's gearing up for a primary fight that is bound to be both intense and nasty. And to add to her challenges, she's a female who is running in the aftermath of Hillary Clinton's 2016 upset.
So, what is one to do? I guess pick a chunky serif font and throw in a splash of green.
Here's my review of those choices.
THE LOGO + FONT
I love a minimalist logo, and Amy Klobuchar's is just that. The first thing one notices is the decision to lead with her first name. It's a trend largely set forth by Bernie Sanders in 2016, and continued on by a number of candidates in the 2018 midterms. So far, among the 10 mainstream Democratic candidates for 2020, half of them are using their first name in their logos.
When you consider that Amy's name ID is low and her last name is challenging for many to pronounce, her choice here was understandable. And compared to the logo she used in her senate campaigns, it's a much needed improvement.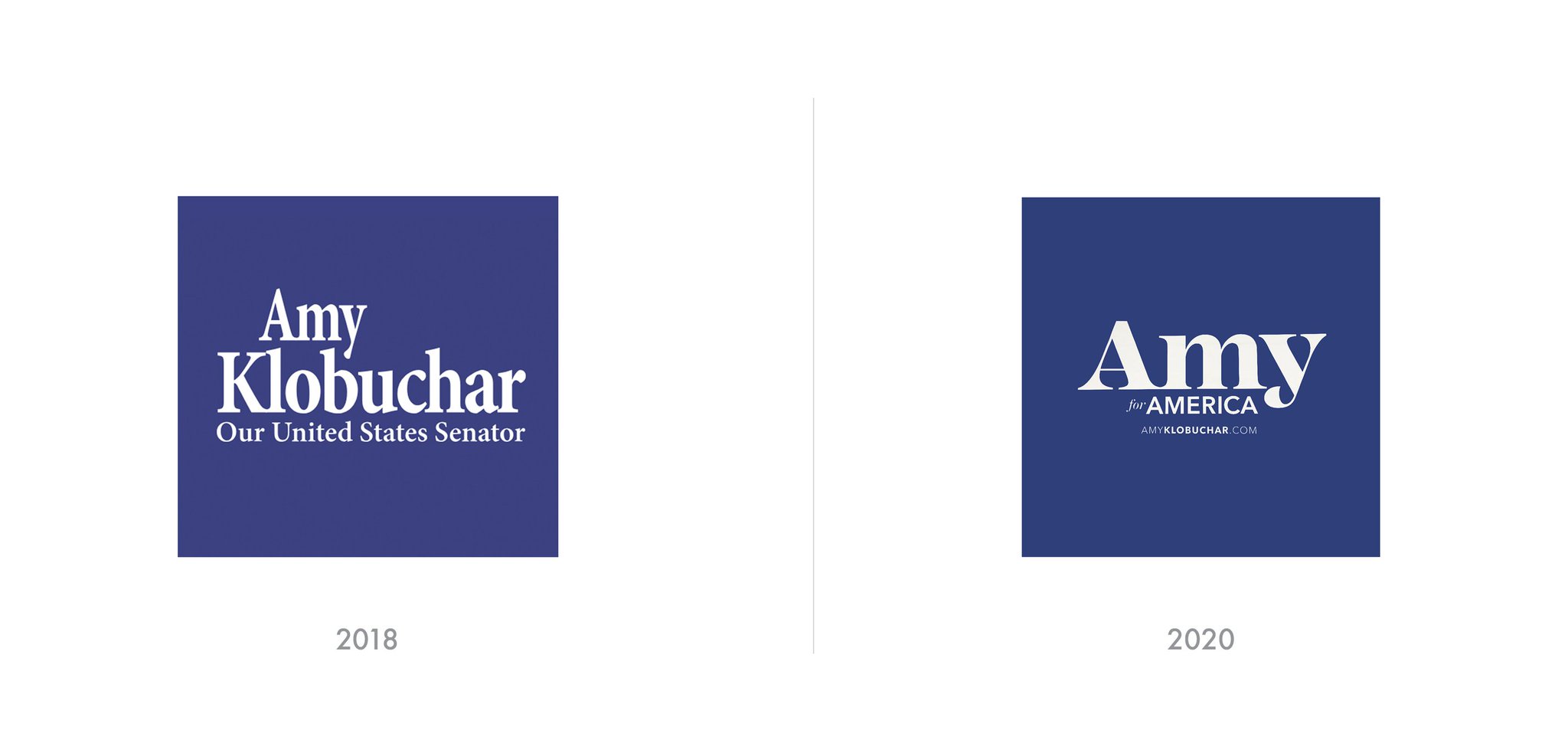 The one challenge I have with it, however, is that it doesn't scale down well. At smaller sizes, "for America" becomes harder to read. If anything, they should just go with "Amy" in these situations, but I'm afraid the typography alone isn't distinctive enough to stand alone without the tag. A true conundrum!
Speaking of typography, she appears to be using "Mackay" by Rene Bieder (h/t CAPD), a nice fat serif that looks strong but approachable. It's paired nicely with Avenir Next, a sans-serif of equal weight for a balanced look. It also happens to be my favorite sans-serif font. Her choice also makes her unique as the only Democratic candidate so far to use a serif font.
While some in the design community would have you believe the serif/sans-serif combos are becoming dated, I still like them for the balance and sophistication they bring. So for those who disagree, I hope Amy wins just to spite you.
THE COLORS
2020 is shaping up to be the year of unique color combinations. And I use "unique" the same way someone calls modern art "interesting." That is to say, it's not my favorite. We get it, candidates, you're edgy and quirky. And no, mom, it's not just a phase!
Here, Klobuchar use a vibrant green as her primary color with a light blue accent, commonplace in Democratic design. The darker blue plays a minor role on the logo, but appears more regularly on her website and in her graphics.
Green isn't a new color for campaigns. Most notably, Jimmy Carter used it, and it was enough to get him elected once. More recently, in the 2018 cycle, a number of campaigns used green as well.
Green is fresh, vibrant, and positive. It's about something to look forward to. Combined with the blue, which represents trust, wisdom, and confidence, it's a winning color combination for a campaign that's about challenging a divisive incumbent.
THE WEBSITE
It is challenging to judge a website right at campaign launch, because they are often bare of anything that intriguing. Amy's website is the same.
The header was a missed opportunity for some concise headline copy about who she is, but otherwise it's a standard, run-of-the-mill site that tells her story and attempts to get visitors engaged. Nothing special to see here, folks.
THE SLOGAN
"Amy for America"
Whoah now, Amy. A slogan that is also your logo? Bold move.
While I don't love it, it is at least consistent with the simplicity of the logo. So kudos for that.
OVERALL
I have to admit I'm cutting Amy some slack because she had to announce her candidacy in the middle of a snowstorm. I would not enjoy having to endure such weather, nor would I be able to speak clearly in the cold. And if I did have to do such a thing, I would at least hope people liked my logo.
And it turns out, I do like it. It's not exciting or memorable, bold or daring. But it is simple and classy, feminine and confident. And it seems to match the perception of the person behind it, which is important as well.
Is it compelling enough to inspire people to learn more about her? I have my doubts. But it's not a bad start.